While those closely involved with Ardrossan believe they never saw the best of the well bred son of Redoute's Choice on the racetrack, they are hoping his offspring will do the talking in the years to come.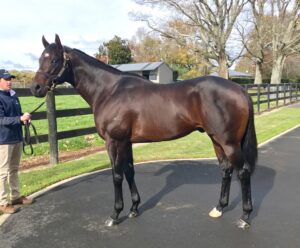 The brilliantly fast but lightly raced Group winner was retired to New Zealand's famed Waikato Stud last year and served a nice book of 68 mares with 61 testing in foal. He received strong support from his owners who include Waikato Stud, Jamieson Park, JML Bloodstock and Jomara Bloodstock. 

Bruce said Ardrossan has developed into an outstanding looking individual and believes he has all the attributes to make a top sire. Thankfully his shareholders believe the same and providing his foals look as good as they think they will, a considerable number will be retained and raced in Australia in an effort to maximise his commercial appeal in the years to come.
While a book of 68 mares is no longer considered a large number, Bruce believes it is more than enough if he is any good. If history is anything to go by, the table below shows this has often been the case.
| | | | | | | | |
| --- | --- | --- | --- | --- | --- | --- | --- |
| Sire | 1st Crop | Foals | Rnrs | Wnrs | Wins | SH | SW (GW) |
| Grosvenor | 84/85 | 52 | 46 | 37 | 149 | 8 | 7 (4) |
| Sir Tristram | 77/78 | 37 | 27 | 19 | 86 | 9 | 5 (4) |
| Lord Ballina | 87/88 | 46 | 38 | 32 | 162 | 14 | 9 (7) |
| Centaine | 86/87 | 44 | 35 | 26 | 127 | 11 | 9 (5) |
| Noble Bijou | 76/77 | 54 | 48 | 39 | 227 | 12 | 8 (5) |
| Star Way | 82/83 | 48 | 43 | 32 | 160 | 12 | 9 (7) |